How Will You Bring Your Ideas to Life?
Especially when your business is one-of-a-kind?
"You Don't Want to Make That Kind of Video"...
That's what the guru told the newbie who had just begun his journey to start an online business.
"Really? I thought it would have to be good to be persuasive."
"Hah!", the guru retorted. "Look, I didn't do anything like that and you paid me ten grand to tell you this. I'm going to save you years of heartache. Nobody cares about video. We've got a Flip. We don't need anything else. Don't waste your time."
The guy was conflicted. He saw that if he took their advice he'd save himself a lot of work.
But he also knew that being a copycat among a zillion other copycats was not what he was put here to do. Even if he didn't become a millionaire in four weeks. So he walked away from the training.
That guy was me. And yes, that lesson was worth every penny of the ten grand I spent not putting any of that guru's ideas into action.
And Now Video Is Exploding
The quality bar is being raised everyday. And for those in image-sensitive markets, for coaches, consultants and service providers especially, video can provide a major boost in becoming a visible authority.
The problem is cookie cutter solutions when every person's business is vastly different than every other person's business, and no one approaches video in quite the same way.
Or should.
That's why I had to create something new; something very different.
It's not just one way of becoming a Visible Authority. It's based on one's actual business, the stage it's in, its customers and that business owner's skill level. Members of the Inner Circle get what they need every week in a live hangout, where we all get together to solve real business problems. They also get access to all my courses.
This is literally where regular folks become video marketers; how to get clients and partners and raise themselves to a higher level of visibility.
It's not for everyone. Not because of the price. Most masterminds are three to ten times as much. It's exclusive because the people who are part of it have reached an important milestone in their business no matter what stage it's in. They've promised themselves they just aren't going to waste any more of their precious time.
It's a special place. A membership-based mastermind with the resources and savvy to help you make your videos stand out like crazy.
You can get quick answers to noggly questions. You can pursue a long-term goal with everyone tracking your progress and cheering you on. You can take a course in an area you want to get better at.
And remember, video is always changing.
That's why we spend a lot of time and money reviewing the latest technologies so you can focus on your business and still stay up to date on the latest and greatest (and more often, not so great) advancements in the world of web video 2.0.
This helps you make smarter choices about how to spend your hard-earned money. Basically I throw mine away mine so you don't have to waste yours.
You know what? This barely scratches the surface. Let's just say The Video Brain Trust is big enough to give you whatever you want and intimate enough to give you what you need.
Let's look at the idea behind this oasis in the desert.
Watch. Learn. Do. Profit.
The Video Brain Trust is unlike anything you've ever seen. It has all the content you need, just when you need it, right at your fingertips.

---
I was a miserable camera shy newbie, who could not read a script right, let alone writing a script, nor making any video. Now, I have my own weekly HOA show with my buddy in Italy. Recorded more than 50 HOA videos by now (in 6 months). I created a membership site for my Healing Course with over 40 videos in the same time.

I am amazed by Steven's way of showing up and be available for us without fail. I love it! I gain more experience and inside knowledge about all aspects of on-line marketing, video making, social media, sales funnel technology, the weather in Oregon and how I can cope with too many things on my plate. He handles it all!

Margherita Crystal Lotus The Crystal Lotus
Not a Random Content Collection. The Video Brain Trust Helps You Move Through Your Individual Challenges With The Right Content At The right Time
With Resources Like These!
Discover Best Practices - New and Classic
Refer to this great content anytime you have a challenge. It's the best foundation for understanding anything new that comes along!
The Video Launch Code
Video marketing and production training that's as much about you as it is about video. It's the firm foundation of everything you'll ever do in video.
Learn everything you need to know about cameras, shooting, audio, microphones, writing scripts that convert, editing great-looking videos and getting all the right views.
Our regular pricing for this program is $997. As a member, it's yours free. With one new module opening up each month you are a member, you'll have personal coaching every step of the way. No limits, no restrictions!
Worth $997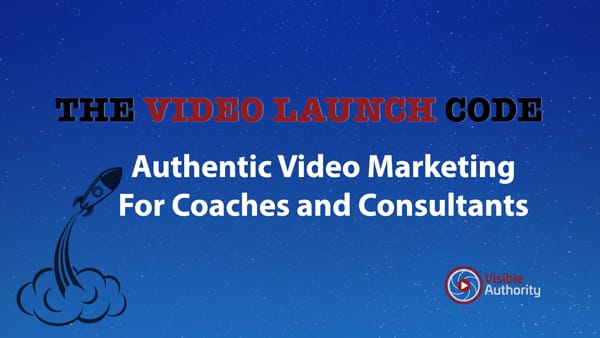 Master of Video Presence
Steve's very personal course on getting all you can out of being who you are on video. It's a deep dive into your persona, discovering your energy type, the Roles you play in life and how to adapt them to being on camera.
It's a life-changing course, as it takes you from sweaty newbie to cool and comfortable on-camera pro.
Worth $997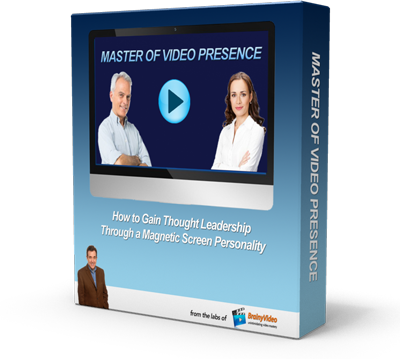 Archived Episodes
Training in all video-related marketing strategy, like the best way to do Facebook posts and ads, how to translate content marketing into dollars and cents and streamlining your workflow so it doesn't eat you alive.
We demystify the complex, so you can get results.
All the training is searchable by topic, so you can easily find what you're looking for. Plus we've included all the content from the fabled AskMrVideo site, so you should never run out of entertainment and enlightenment on all things in business video!
Worth $5,000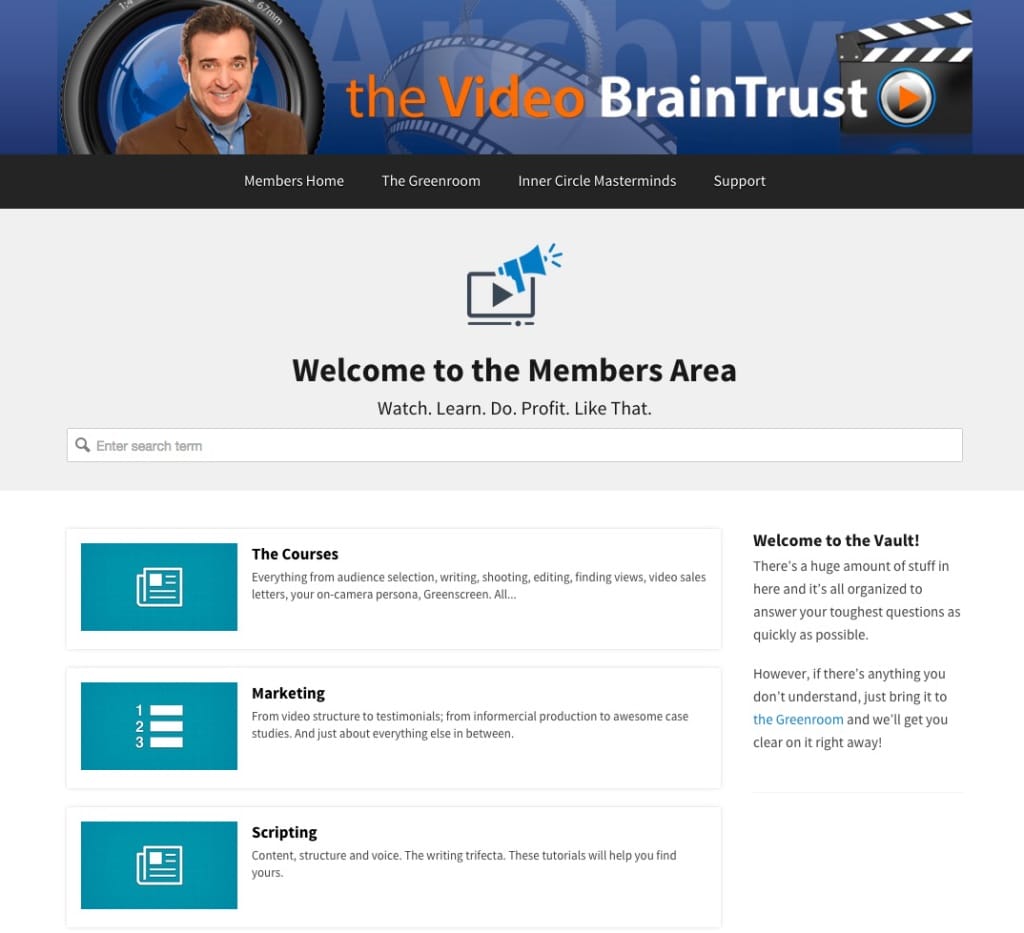 Up to the Minute Advice and Coaching
Update your skills and knowledge with direct answers to your toughest questions. Get faster results in your conversions with the latest strategies working today. Ask Steve. He'll answer. And fast!
The Greenroom
For many teachers online, a forum is an add-on and running it is just an afterthought. You discover that when you try to get your questions answered and 6 months later you can still hear the crickets.
For me it's the core of Visible Authority.
No question is too small or too large in the Greenroom. From learning the ideal resolution of a YouTube video to the subtlety of a video launch freebie, we cover the gamut of production and marketing.
Bring your videos in for critique and review by Steve. Get helpful, kind feedback from fellow members. All with an eye toward creating the sharpest, leanest, most profitable videos in your market.
Worth $2,500/yr.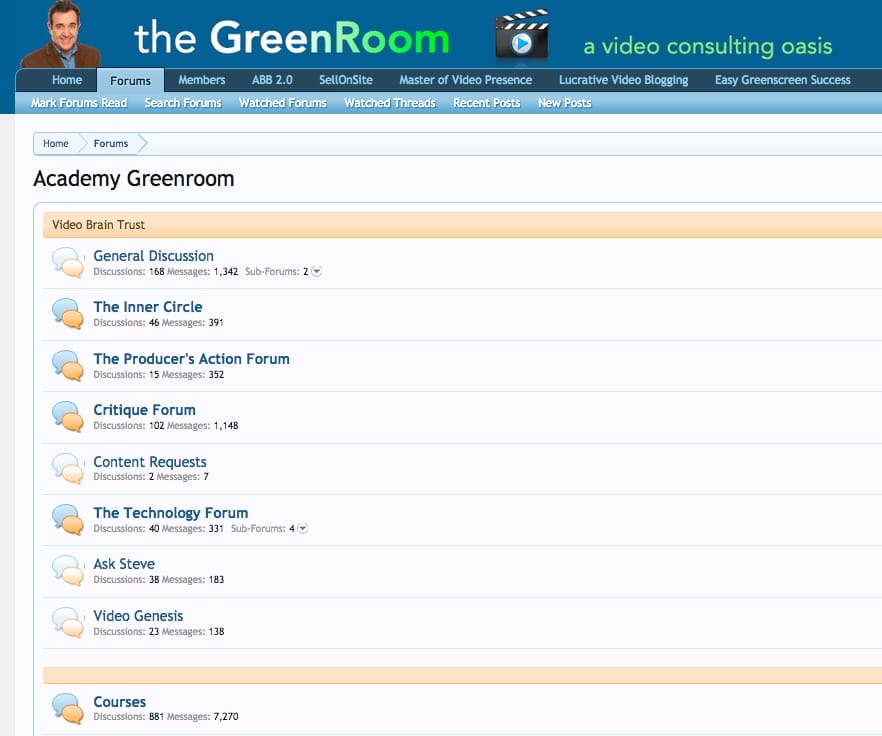 ---
I have been growing and selling more than ever.  60% of my digital programs are video-based — and I learned how to do it from you!

Jaime Miller English Success Academy

---
Here's who it is not for:
If video is not one of the 2 or 3 main ways you market your business, then it's probably not for you.
And if you're looking for a push-button solution to instantly "crush it", go ahead and look elsewhere.
Who it is for:
The Inner Circle is for business owners who want to deliver their products on video, launch products using video, or want to leverage video to sell their services or sell for others.
It's the deep end of the pool; for those who've got a business they're proud of and want to bring it online or simply use the internet to make their offline business healthier.
Custom Strategy For Your Products and Promotions
When you're ready to step up your game...when you're OK with being in the spotlight...when playing it safe no longer makes you happy...you might be ready for The Inner Circle.
Who do you run your content strategy by? Your family? It only annoys them. Your friends? They already think you're crazy. The gurus won't talk to you and the rest of the online community are either too busy or too uninformed to help.
That leaves you in limbo.
Now... imagine showing up once a week for a very intimate call. There are no more than a dozen or so people in the coaching session. However, all of them are at your level of commitment.
And you find that the problems you're getting solved are not unique. They are shared by nearly everyone on the call with you. What's more, you get all the time you need to get support on whatever's holding you back.
And you leave with a clear plan and a new sense of purpose.
Not bad for an hour's work.
You're getting my best thinking and total support. You're getting cutting edge strategies combined with a classically-trained perspective.
So naturally, we can best serve marketers with a bias towards taking action.
To support you in every possible way, you're getting attention from every possible angle.
Here's how we do it:
Inner Circle Member Support
Weekly Training & Mastermind
This is the heart of the Inner Circle. We take the first part of our time to learn about a marketing concept or video concept that everyone is hot to know about. From scriptwriting to list-building to adwords to product funnels, we've probably touched on it at least once or twice.
But these calls are really reserved for you to get your burning questions answered and coaching on whatever you've got cooking. Most of our Inner Circle members put the highest value on this part of the program. Why? Clarity and focus. When you're in the trenches and don't know what to do next, clarity is priceless.
If you get lucky, you can find this level of support and guidance in 5-figure Masterminds.
Worth $6,000/yr.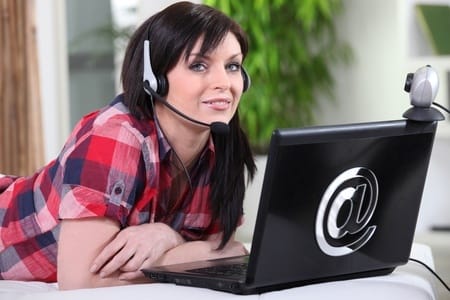 Private Consult
A one-hour private consult with Steve to get you started right. We'll decide how your videos will fit into your marketing and product or service delivery plans, establish benchmarks, then stay accountable to each other to hit them.
Worth $300.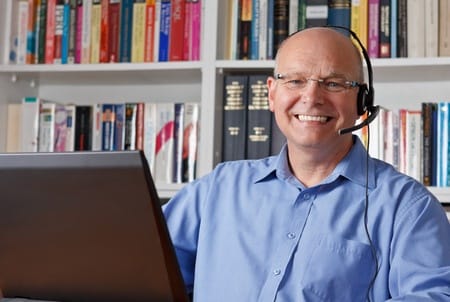 ---
Before I started working with Steve, I knew that video marketing was vital for my business, but I didn't know where to begin, and I was self-conscious in front of the camera. Now, I'm happy that I've made a marketing video that I'm really proud of, feel much more comfortable on camera, and, most important to me, feel really supported and empowered to continue improving.

I receive direction from Steve not only on improving my videos but also (and this is BIG) support and direction to improve my business. It's personal and geared to me. As a result, I can apply what I'm learning.

My favorite thing about being in the Inner Circle is that I not only receive personal attention about my videos and my business, but also, Steve keeps notes so he remembers things that are important to me, with the result that he can help me with the direction I'm going in.

I don't know where else I would get what I'm getting in the Inner Circle.

Carol Anne Chapman Speaker and Author of 'Have Your Heart's Desire'
The Inner Circle - At a Glance
This is the site I wish I'd had when I was starting out.
All of these unique elements are designed to get you to your most desired result in the most rapid way possible. From writing to shooting to editing to strategy to being on camera to tools to peeking around the corner at what's going to happen next, you can move forward with total confidence.
Using the Video Brain Trust you will...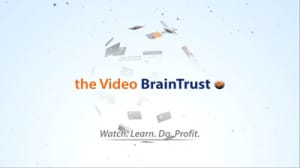 Sweep away the shifting sands of online video and base all your efforts on a firm foundation. With the comprehensive Audience Builders Blueprint 2.0, you'll simply become a better, smarter video marketer.
Learn to do it right the first time through deep dives into Highly Focused Courses, so you can repeat the most effective techniques and strategies over and over again with ease (for pennies on the dollar)
Avoid stalling out with the wealth of information available in the Vault; get simple easy adjustments to help push quickly through your challenges and get it done.
Feel welcome and comfortable in a No-Hype Community uniquely oriented toward trusted advisors and the "marketing-allergic"
Design and jumpstart your personal video marketing strategy in the Greenroom with clear, prompt and thorough feedback from Steve, plus friendly helpful members who share similar goals. (The more feedback the better!)
Show up and learn about special topics selected just for our members, from High-Level Expert Interviews where the guru comes to you. Tons of great information (and no sales pitch!)
Blast through perfection paralysis in Weekly Hangouts…unprecedented access to personal coaching empowers you to take your next steps with clarity and confidence.
Discover what will work best in your business with a true Behind-the-Scenes Look at how Steve applies this information in his. Don't re-invent the wheel. To look like a pro, model a pro.
When was the last time someone re-edited your video just to show you what was possible? 
Inner Circle gives you a carefully constructed combination of membership site and mastermind; designed to boost your confidence and alleviate any anxiety and stress about using video in any aspect of your business; through immediate and consistent access to top-notch resources and support; developed by an expert video producer, educator and online business owner delivered with clarity, compassion and humor; to help you create content, launch products and sell services with the sharpest, leanest and most profitable videos in your marketplace.
Are you tired of being outside looking in? Then join us today and pull your seat up to the table!
The Inner Circle
The Greenroom
The Vault
The Video Launch Code
Master of Video Presence
Teleprompter Training
Live Weekly Masterminds
Private Consult
-
-
Get the Inner Circle Now
Inner Circle Annual
The Greenroom
The Vault
The Video Launch Code
Master of Video Presence
Teleprompter Training
Live Weekly Masterminds
Private Consult
3 Months Free
Instant Access to All Courses
Get Inner Circle Annual Now
Your rate is locked in forever, no matter how much more we add on a monthly basis, making your investment grow steadily over time.
There are only so many new members we can take before we lose the ability to keep the personal touch. At that point we'll just revert to a waiting list.
If you do need some help in deciding, I'll be happy to talk to you about your personal circumstances. Email me at steve@visibleauthority.com and we'll set up a few minutes to talk in person.
Q. Will I have access to ALL the material no matter how much is put in later, and for no additional cost?
A. Yes. Members will never see a subscription increase no matter how much content we add, and no matter how much the price may increase.
Q. What if I'm a total beginner?
A. We've got you covered. Think of the VBT as a moveable feast. You may come in completely fresh, but we'll take you methodically through each course until you're a high-ticket video marketer.
Q. When will all the content be in the member's area?
A.  Never, because we'll always be adding to it! 
Q. My business is different. Will this work with my business?
A. Probably. We specialize in working with trusted advisors, coaches and consultants. If you're here now, it's likely that's the reason. And we can help.

Q. Will you be making this offer again?
A. Sure. But admission may not be this low.

Q. What are the other costs involved?
A. Surprisingly small, actually. You can get a camera and microphone for about $200. You'll also want a decent editing program, which can be had for about $50, though we usually recommend the $100 versions.
Other questions? Email me at steve@visibleauthority.com for a prompt answer…