The Secret About Overnight Success That No Guru Wants to Tell You
Winning clients is not about deploying some mind-blowing marketing tactic. Consistent client attraction comes from relating your expertise to perceived problems. And this takes growth.
| | | |
| --- | --- | --- |
| | Now Open For a Limited Time | |
Though it has become our most important program over time, we have rarely opened it to new members. The last time was in 2014.
That's because with too many people showing up at once it would not be possible to serve them at the level they deserve, so we just didn't tell anyone about it for a long time. We didn't want to build demand for something we couldn't deliver.
So why are we opening now?
Because we're adding more small groups. This way we can keep our setting as intimate as it has always been. We'll never have more than 12 members assigned per group.
It doesn't scale big, but it scales beautifully.
What Is The Inner Circle?
The Inner Circle is a marketing ecosystem incubator. It does a few key things for you.
It helps you figure out precisely who you're serving, how to reach them and what to reach them with. 

It helps you mold yourself into a master storyteller.
It helps you use video like an expert; sometimes better than an expert.
It helps you build authority in a world you also get to create.
This unique combination of live teaching, mastermind, membership site, full-length courses, marketing tools and personal coaching will help make all your marketing, including video, as welcome to your audiences as the perfectly crafted ending to their favorite movie. It will make you attractive.
It starts inside a bi-weekly hour-long Zoom session with 5 - 10 people focusing on a pertinent topic adapted to that group. It's followed up by an almost infinite number of opportunities to further your expertise in our forum and other learning resources.
In Inner Circle, people find out what they can REALLY do.
Let's look at everything you enjoy on our oasis in the marketing desert.
Elements of The Inner Circle

---
Create Shockingly Good Videos and Place Them Into an Automated Path of Attraction...No Matter Your Experience Level
Video marketing and production training that's as much about you as it is about video. It's the firm foundation of everything you'll ever do in video marketing.
Get really good at shooting with your camera, setting up your microphone, writing scripts that convert, editing great-looking videos and getting all the right views.
Use video in an automated path of attraction that respects your audience while demonstrating how there is no one who can help them nearly as well as you.
With one new module opening up each month you are a member, you'll have personal coaching every step of the way. No limits, no restrictions!
Worth $997
Be Your Fearless, Compelling, Attractive and Comfortable Self on Camera.
Steve's very personal course on getting all you can out of being who you are on video. It's an authentic exploration of your persona, discovering your energy type, the Roles you play in life and how to adapt them to being on camera.
It's a life-changing course, as it takes you from sweaty newbie to cool and comfortable on-camera pro.
Worth $997
Your All-Access Pass to Hundreds of Hours of High-Level Deep-Dive Training on Marketing & Video Production Completely Exclusive to Inner Circle
Training in social media, content marketing, advertising, scriptwriting, video production, being on camera, producing webinars and all kinds of other marketing strategy; like the best way to do Facebook posts and ads, how to translate content marketing into dollars and cents and streamlining your workflow so it doesn't eat you alive.
We demystify the complex, so you can get results.
All the past training is searchable by topic, so you can easily find what you're looking for.
Check below for a partial list of topics on which we've done deep dives and to which you will have immediate access.
Worth $10,000
Sample of Posted Trainings Available Now
+
Live Exercises
Practice sessions on conducting your webinars
A Shooting Intensive for members
Selecting beliefs for your marketing ideas
How themes, topics and beliefs power your videos
Workshops on landing pages
Video SEO
Understanding Video SEO
Using Video SEO principles to rank your website
SEO in The Content Carousel
How to supercharge your video SEO
Getting our member's videos top rankings
Finding the best keywords for your business
Getting zillions of views on YouTube
Creating Paths of Attraction (formerly known as funnels)
Transforming a sales process into an automated marketing sequence
Marketing journey for products up to $500
Laying out the client journey
The Big Fish marketing sequence
Getting clarity on who you're talking to
Choosing your pillar ideas
The Content Carousel fine points
The 4 elements of trust
Videos at the beginning and ending of the path of attraction
The Stanislavski Marketing Method
Direct marketing for consultants
The Platform Way of content marketing
Selecting beliefs for your marketing ideas
How to warm up a cold list
The initiation series
The simple method for creating tag lines
Increasing conversions and showup rates on webinars
The 3 elemental forces you can use to create content
Frameworks that make it easy for your customers to choose you
The Tools of Marketing
Free resources for content marketing
Reviewing ePublishing platforms
GDRP issues
Advertising
How to do Google Video Ads
Client-centered copywriting and advertising
Designing better Facebook ads
Matching ads to the right awareness levels
Truth in advertising
Becoming a Visible Authority
Self-Mastery in Marketing
Becoming a Category of One
Being an Original vs. copying success models
Setting better goals
Competing with large corporations
How to deliver massive value
3 authority-building strategies
Sales calls that don't give up your expert status
Storytelling
The 10 storyforms you can use in video marketing
The Stanislavski Marketing Method
weaving teaching into video storytelling
Creating suspense in video
Designing a home page that tells your story
Making Effective Videos
How themes, topics and beliefs power your videos
Creating trailer videos for Facebook, YouTube and Pinterest
The best videos for Facebook
Developing videos for the Content Carousel
The finer points of green screen in small spaces
Video challenges with WordPress themes
Lighting greenscreen for 4K video
Video codecs, wrappers and frame rates
Teleprompters for smaller cameras
Editing options for 4K footage
The 14-point checklist for using music in your videos
Editing greenscreen videos
Scaling a web video series
Teleprompter vs. Off-the-Cuff videos
Projecting Attitudes in Persona
Pre-attention factors in visual media
Your ideal Role on camera
The 3 stages of video in business
And much more…
Getting in the Trenches With Steve And Applying What's Working Today to YOUR Business
Bi-Weekly Training and Mastermind
This is the heart of the Inner Circle. We take the first part of our time to learn about a marketing or video concept that everyone is hot to know about. From scriptwriting to list-building to Google Ads to product funnels, we've probably touched on it at least once or twice.
But these calls are really reserved to take this information and apply them to your goals and campaigns. We leave no room for confusion or doubt. You'll get your questions answered and coaching on whatever you've got cooking.
Most of our Inner Circle members put the highest value on this part of the program. Why? Clarity and focus.
When you're in the trenches and don't know what to do next, clarity is priceless.
You simply will not find this level of access, support and guidance in any other member forum, group, course or even a 5-figure Mastermind.
Worth $15,000/yr.
Personal Guidance and Consistent Feedback on Your Videos and Your Marketing Campaigns
For many teachers online, a forum is an add-on and running it is just an afterthought. You discover that when you try to get your questions answered and 6 months later you can still hear the crickets.
For me our Greenroom forum is another way for you to have access when you need it. I don't want people struggling unless it's existential. No struggles with marketing allowed!
So...no question is too small or too large in the Greenroom. From learning the ideal resolution of a YouTube video to the subtlety of a video launch freebie, we cover the gamut of production and marketing.
Bring your videos in for critique and review by Steve and the whole crew.
Get helpful, kind feedback from fellow members in our private, non-Facebook forum. All with an eye toward creating the sharpest, leanest, most profitable videos and marketing in your industry.
Worth $2,500/yr.
Giving You the Best Possible Start By Helping You Set Realistic But Stretchy Goals
New members get a one-hour private consult with me (Steve). I like to spend this time learning about your business so that we can assess your needs and begin designing your marketing plan, including how videos will fit into the mix.
We'll establish benchmarks, then stay accountable to each other to hit them.
You'll come out of this meeting confident in your approach and eager to take the next steps, knowing you'll be supported all the way.
And of course you'll be better prepared to take full advantage of what Inner Circle has to offer.
Worth $800
New Member Benefit for 2019
Our newest feature is a really fun branding tool that creates high-quality animations for the videos our members create. Now they can get them free of charge, which we'll create together; just as in the video at the top of this page.
There are over 1,000 templates in The Viddyose Collection. That means we can find something just right for you. 🙂
These are very high-quality customizable sequences that will make your videos resonate with credibility. Here are the types of sequences you can choose from...
Animated Intro
Animated Outro
Calls to Action
Background
Logo Animation
Title Sequence
All members can choose one new sequence per year.
Annual Members get their choice of 1 per quarter.
Worth: $100 - $400
Why I Started Inner Circle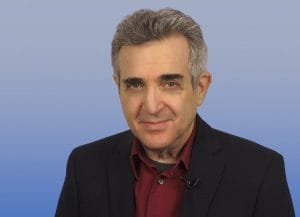 If you had asked me about this while I was on the tenure track, I would have thought you were crazy. Had you asked me about this while I was doing video marketing for major corporations, I might have stared at you like you had two heads.
Then YouTube came along.
Then Vimeo. And despite increasing opportunity for all, it was clear that many small businesses were in danger of being swallowed up by big corporations. That has largely happened as ever-increasing mergers create ever-larger, less-responsive companies, and consumers find it more difficult to avoid shopping anywhere but Amazon or Walmart.
That's your opportunity now.
It lies in beating slow-moving companies with their inhuman ideas about what makes for value, combined with tone-deaf marketing.
Over the last 8 years, it's been the joy of my life to help thousands of small business owners create an authority presence online, but more importantly, make their audiences feel good about getting their marketing. 
And of all the things I do, Inner Circle is often the most valuable. For some reason I have the ability to hear the problem behind the problem and help that person come up with the right solution for them. 
Hearing the right word at the right time is what makes the difference.
I'm not perfect. Hardly that. But we've created an ecosystem that aligns my abilities and resources with a client's needs; something that likely goes back to my teaching days. I'm never happier than when I'm solving a tough problem for a member...live.
Especially because we know this leads directly to growing their business.
Imagine showing up twice a month for a very intimate call. During the first part of the session you enjoy learning about a marketing topic framed in the language and strategy of attraction, growing your knowledge of how to create your own marketing.
You get all the time you need to get support on whatever's holding you back. Nearly everyone participates, and the conversation is enriched by these observations and additional questions.
More importantly, you leave with a clear plan and a new sense of purpose.
If more questions come up on this or any other topic, we continue the conversation in The Greenroom, our private forum, so the conversation only ends when you're settled with it.
If an even deeper learning is needed, you can dive into an hour or two of training among the hundreds of hours already on the site, or with new training created just for Inner Circle members.
Now repeat twice a month until you're thoroughly transformed into the marketer you always knew you could be.
That's Inner Circle.
We believe marketing is leadership, which always comes at a price because you can't lead others to freedom until you're free.
That might seem obvious.
But this is why so many membership groups are full of fearful folk whistling past the graveyard...
Taken out of context, marketing tactics quickly become a prison of thought. Now imagine being smothered with 5,000 of these tactics and you start to get a sense of the burden placed on members.
But it's a little worse than that, because these tactics are framed as bestowing freedom, abundance, leadership and clarity on their members.
And yet…
Scanning the horizon for what you feel like you don't have yet is not freedom.
Looking for someone to tell you what to do is not abundance.
Expecting others to make you feel like "somebody" is not leadership.
Hoping for direction in a pile of tactics does not produce clarity.
All of these point to the same problem.
Learning and producing from a state of neediness.
However, it's completely possible to live in a world where you help yourself by helping others, where neediness silently takes a backseat so abundance can grow naturally.
In this world, you attract people by building them up, inspiring, sometimes mystifying and always empowering.
You create clients by growing them, not catching them.
Every tactic you learn here will be one we co-created for your marketing ecosystem; each designed for growth, not fear.
Inner Circle helps you free yourself from neediness, scarcity mindset, fear, shiny object syndrome, fight or flight syndrome and confusion.
And of course, a state of freedom is fun.
It's light-hearted. When you aren't worried all the time about how others see you, they are more attracted to you.
How to Join The Inner Circle

---
CURRENTLY OPEN FOR REGISTRATION
The Inner Circle Monthly Bundle
Co-create your own marketing ecosystem. All the tools and expertise you need in one place. Designed for growth. Engineered for profit.
The Greenroom
The Vault
The Video Launch Code
Master of Video Presence
Bi-Weekly Mastermind
Private Consult
1 Branding Video/YR.
-
-
The Inner Circle Annual Bundle
$
1,495
15% annual discount
Everything from the monthly, plus instant access to all courses, 4 branding videos per year and an additional 2 months of coaching
The Greenroom
The Vault
The Video Launch Code
Master of Video Presence
Bi-Weekly Mastermind
Private Consult
4 Branding Videos/YR.
2 months free
All-Access Pass to Courses
In short..
I make videos on all these topics over at Visible Authority. But there is only so much I can say in 5 minutes. Here every training is a deep dive with nothing held back. No questions go unanswered.
You show up with a problem. You learn something new. You leave with a solution. It couldn't be simpler.
There are no lock-ins to the Inner Circle, so you stay only as long as you feel you are receiving value.

---
I built this to be the resource I wish I'd had when I was just coming online and trying to figure it all out, but if you're still wondering if this is right for you, just email me at steve@visibleauthority.com and we'll find your answer.